Product Description
Solmeta Geotagger Pro 2 is a brand-new GPS unit specially designed for Nikon phtotgrapher who enjoys geotagged photoes. It is not only a GPS unit but also can be used as a wireless remote and timer release.
Moreover, it can also be independent used as a GPS track logger which provides Real Time geographic coordinates logging. Easy to use!
With supported Nikon cameras, the GPS information are embedded directly within the images as they are taken.
The Pro 2 supports these Nikon cameras: D800, D800E, D4, D3-series, D700, D300-series, D2X, D2XS, D2HS, D200. Nikon D90. Nikon D5000, D5100, D3100, D7000, D3200 and D600.

Highlights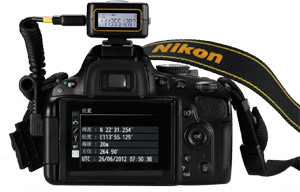 The Geotagger Pro 2 is more advance than the old product (Geotagger Pro) with these remarkable features.
·A brand new appearance
The brand-new appearance looks more beautiful, creditable, comfortable and professional.
· Improved LCD screen
The improved LCD is FSTN. The FSTN LCD is much clear than normal STN LCD. The display is high-contrast and can be viewed even under the strong sunshine.
· Wireless Shutter Remoter
The Pro 2 is built-in 2.4 GHz wireless receiver, which can receive the commands of focus and shutter release from 2.4GHz Wireless Shutter Remote (Supplied as a accessory of Pro 2 ).
· 2 GB flash memory
The Pro 2 is built-in a 2 GB memory which can record up to 4,900,000 positions. The flash memory can be easily read by the computer via USB connection. No software needed. The log file can be directly copied and deleted.
· High accuracy time
Pro 2 can provide a high accuracy time. It is better than 100mS. The accuracy time is based on a very precision pulse which is output from the GPS chipset. To get the high accuracy time, the Pro 2 need to capture the GPS signal more than 10 sec. If there is a "TIM" icon shown on the LCD, it means the current time is the high accuracy time.
· Timer release
When the camera is connecting with Pro2, the camera is equipped to take photographs automatically at preset intervals. The interval can be set via custom setting.
Some features same with the old product (Geotagger Pro)
· 3 aixs electronic compass
It builts in 3 axis electronic compass. The 3 aixs electronic compass enable Pro 2 device to acquire accurate heading even when it is tilted in certain degree.
Notes: Nikon D200 doesn't support heading record.
· Indoor fixed function
When you go indoor or to a place where GPS signal got blocked, Pro 2 device will automatically reuse the last known position for tagging the subsequent images, we call this function "In Door Lock".
· Built in Li-ion Battery
Internal rechargeable battery provides power for up to 8 hours. Power is automatically switched to Nikon camera's when the internal battery reaches a low level.
· "Auto" function
"Auto" function allows the Geotagger unit turn on when the Nikon camera is turned on and turn off when the Nikon camera is turned off. It helps to maximum save internal battery power.
Compatibility

The data cables of Geotagger Pro 2 are detachable, the unit can work with all current Nikon DSLRs that support GPS function. We provide three types of cables for different Nikon models:
Cable-D: For Nikon D800, D800E, D4, D3-series, D700, D300-series, D2X, D2XS, D2HS, D200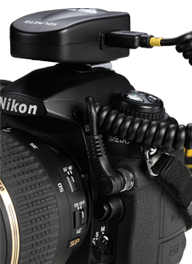 Cable-E: For Nikon D90
Cable-F: For Nikon D600, D7000, D5100, D5000, D3200,D3100
Kindly remind: Please choose one of above cables to match your Nikon camera when add Pro to cart. If you need an extra cable, it's available in "Data cable"
Specification

Chipset: MTK MT3329
Channels: 66 parallel searching, 20 Tracking channels
Tracking Sensitivity: -159dBm
Data format : NMEA 0183 Ver 3.01 ASCII
3 Axis electronic compass: Azimuth Range 0-359°
Battery: 500mAh Lli-ion
Operation current lower than 60mA
Charging current 300mA
Dimension (L x W x H): 56 mm x 36mm x 19mm
Weight: 50g (1.8 oz.)
Logger

The Geotagger Pro 2 can be used as a GPS track logger which records real time coordinate logging and easy-to use trip guiding service. It can record about 4,900,000 positions, once the Pro 2 get a GPS signal fixed, the GPS data will be recorded in the internal memory. The logging files can be copy to your PC like a USB key. You can combine these positions with your digital camera photos to share the track histories and photo locations to mapping application software such as Google Earth.
User Manual

For more details, please download Solmeta Geotagger Pro 2 User manual.